Facepalm: When Blizzard initially announced Overwatch 2, its Player-versus-Enemy co-op Hero mode was one of the primary justifications for sticking the number 2 into the title. The game's latest roadmap reveals Blizzard has scrapped those plans, turning the sequel into something much closer to the original and eliminating one of its main selling points.
Blizzard recently confirmed that it no longer plans to release the long-anticipated co-op Hero mode for Overwatch 2. Like its predecessor, the game will focus primarily on competitive multiplayer with occasional co-op events.
Overwatch 2's 2019 announcement detailed Story Missions and Hero Missions, which would develop the storyline that has been a main draw for Overwatch fans. The Hero Missions would let groups of players defend maps from invading robots while leveling up to earn new abilities called Talents.
Blizzard planned to sell Overwatch 2's PvE content as the premium-priced main course while letting Overwatch 1 players transition to the sequel's multiplayer at no extra cost. That offering changed when Overwatch 2 launched last year as a free-to-play competitive game that replaced its predecessor, while Blizzard promised to release the co-op mode later.
The company's latest content roadmap confirms that Story Missions will still arrive with season 6. However, Blizzard canceled the paid Hero Missions and Talent system comprising the bulk of the co-op content. As a result, Overwatch 2's co-op mode will likely resemble the original title's infrequent PvE events.
In an interview with GameSpot, Blizzard said it made the shift to maintain the pace of new multiplayer content releases, which had slowed due to work on the Hero Missions. According to game director Aaron Keller, it would have taken several more years to release the originally-planned co-op mode while siphoning development resources from the currently-available multiplayer.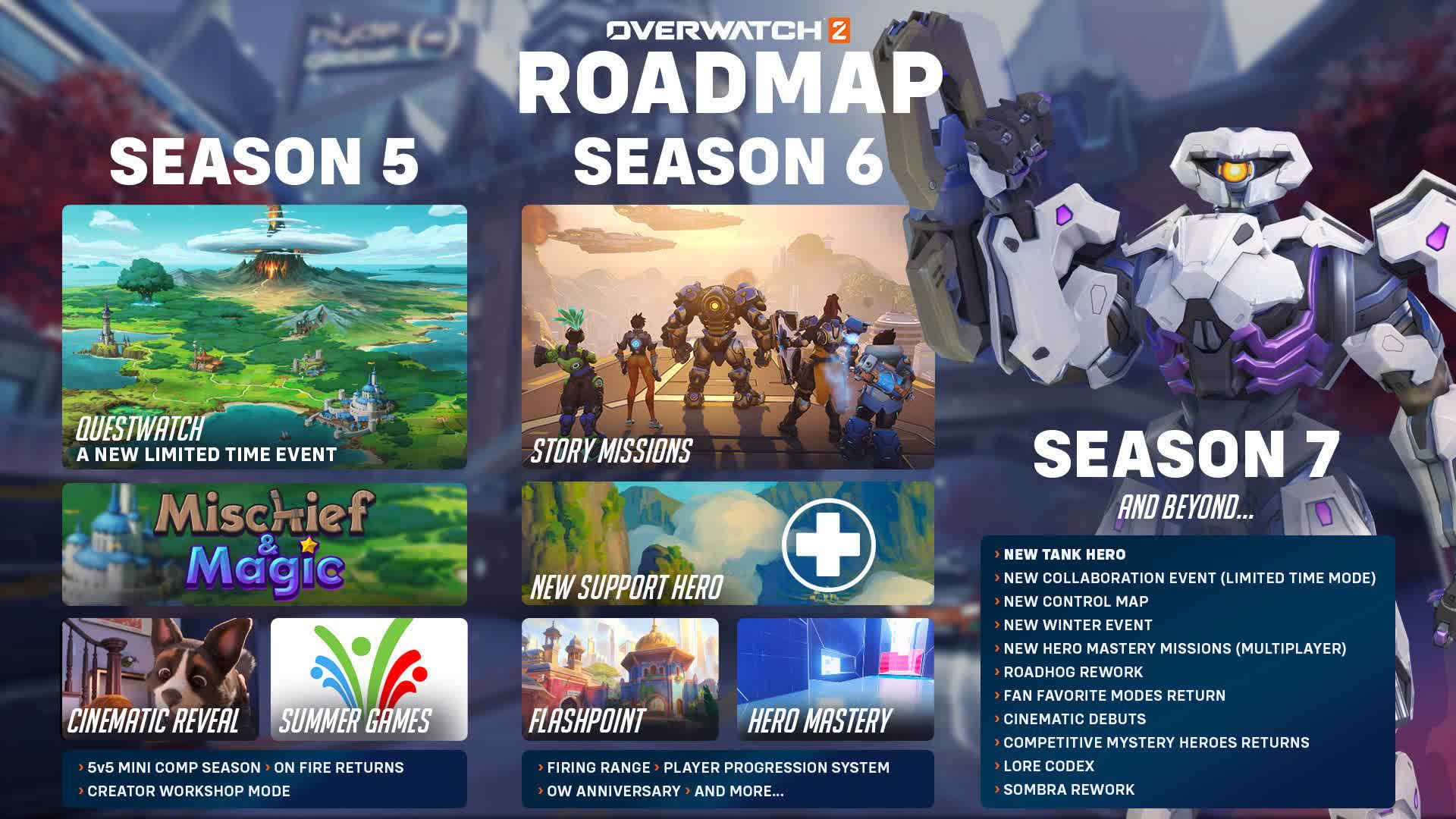 Keller stated that Blizzard decided to switch gears around a year and a half ago. It had realized it couldn't fulfill its initial plans by the time it released Overwatch 2 last October.
Particularly concerning is Keller's admission that work on co-op caused Blizzard to stop releasing content for the original Overwatch during the last leg of its life. With much of the co-op now gone, many players may question why Blizzard transitioned to Overwatch 2 at all.
Alongside the unfortunate news, the roadmap reveals that season 5 includes a new event called Questwatch, a new cinematic, the creator workshop mode, and more. Season 6 adds the first story missions, a new support hero, a new Flashpoint map, Hero Mastery, a new firing range, a player progression system, and more. Season 7 introduces a tank hero, a new control map, the lore codex, and other content.